Eyelid Surgery
One of the reasons patients show up at my office is because they start noticing that the signs of aging in their eyes are gradually becoming more evident. Excessive skin on their eyelids, pockets of fat, and descended eyebrows are frequently the first signs of ages that appear on the face.
A blepharoplasty, also known as eyelid surgery, is often done to improve the appearance and shape of the eyes.
During this procedure, I remove excess skin from the upper eyelid, as well as fat located on the lower eyelid. This procedure is completely safe and can be done with local or general anesthesia depending on each patient's needs and preferences.
During your first visit, I will examine your face and the areas you wish to have me work on. I'll ask several questions about your diet, if you're currently undergoing any medical treatments, or taking any medications that could affect the procedure. If you smoke, you will have to follow special instructions before you can safely undergo the procedure. The pre-operative process increases the likelihood of making a good recovery.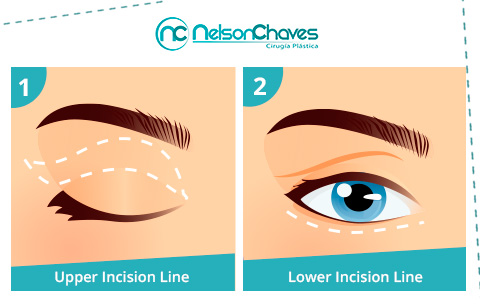 Blepharoplasty is an outpatient procedure that takes approximately 1.5 hours. Ideally, candidates for this procedure are at least 45 years of age. However, there are people who, because of genetics, develop excessive skin on their upper eyelid and pockets below their eyes at a very young age. In these cases, plastic surgery is also performed to rejuvenate the patient's face.
The purpose of this procedure is to help you recover the natural, youthful appearance on the upper third of your face. Also, I look to remove the presence of bags in your eyelids that could interfere with your vision. The recovery time is short, so you will be able to return to your daily activities in just a few days. Eyelid surgery is painless. Any inflammation or bruises that appear will be quickly treated with topical creams and analgesics. I recommend using lubricating eye drops, as dryness might occur during the first few days after the surgery.
Recommendations and Final Result
Blepharoplasty will improve the appearance of your eyelids and make your eyes look smooth and even. Even though the procedure will make your face look younger, there are times when it is necessary for me to work on the expression lines located on the forehead and between the eyebrows. If I need to do this, I will operate on the muscles that can cause a marked or exaggerated expression on the patient's face. You will make a full recovery within 15 days, and the area around your eyelids will look completely normal.