Dr. Nelson Chaves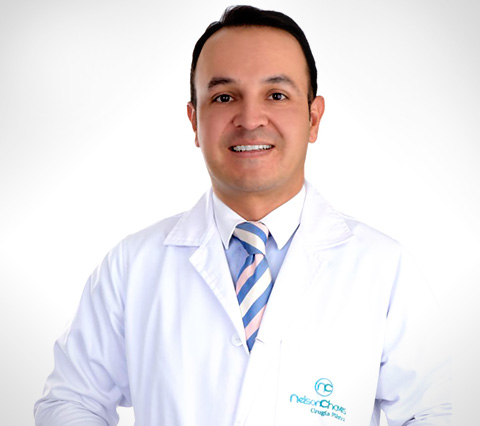 Dr. Nelson Chaves is a renowned plastic surgeon who graduated from Universidad Nacional de Colombia in 1996. A few years later, he received a specialization at the Pontificia Universidad Javeriana, where he acquired knowledge and skills, both nationally and internationally. He specializes, essentially, in treatments and procedures related to plastic and aesthetic surgery in Bogota, Colombia.
Dr. Nelson Chaves is constantly updating his knowledge by periodically attending national and international congresses. This allows him to stay up to date with technological and scientific advances in the field of aesthetics. He has a private office at Centro Medico Dali, in Bogota. A significant number of his patients are from countries like the United States, Canada, Spain, and England. This shows that a growing number of people are choosing to undergo plastic or aesthetic surgery with Dr. Chaves. He is a certified professional who is committed to giving his patients a body that makes them feel proud of themselves.
Dr. Nelson Chaves offers lodging and transportation for patients who do not reside in Colombia. The cost of the procedure is established during the patient's first evaluation or based on the procedures needed. Our priority is to help all our patients, which is why we have the best medical facilities. The rooms where we perform aesthetic surgeries have cutting-edge technology, so we can provide our patients with the safety and comfort they deserve. Additionally, our offices, administrative areas, patient recruitment rooms, and recovery rooms are designed to give all our patients the best experience. Dr. Nelson Chaves' goal is to offer his services to people in Colombia and abroad who need a highly renowned plastic surgeon.
Facial Surgery
The face is one of the first things that people notice about you. It should come as no surprise that patients want it to look youthful and radiant. We offer plastic surgery on several areas of the face so that, you can increase your self-esteem and give you more self-confidence. These are low-impact surgeries and have a quick recovery time.
Body Aesthetic Surgery
Body aesthetic surgeries are the ideal alternative for people who have physical deformities or simply they want to enhance their appearance. There is an endless list of body aesthetic surgeries for every area of the body. Our main goal is to please all our patients and guide them through their best options when deciding to undergo a surgical procedure.
Member of the Colombian Society of Plastic, Aesthetic, and Reconstructive Surgery
Dr. Nelson Chaves is a certified member of the Colombian Society of Plastic, Aesthetic, and Reconstructive Surgery and has extensive experience in the field. His renowned career speaks to the quality of the procedures he offers. He is also part of the doctor staff at Clinica Palermo and Clinica del Country.